Alumina(Al2O3) Low-dielectric loss type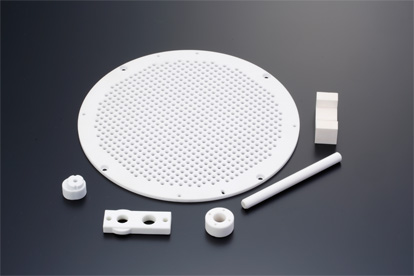 A995LD is an alumina based material with stably-maintained low dielectric loss which solves the following problems on devices using plasma (CVD, etcher, etc.):
・need for high output to increase rate;
・output rates differ by equipment;
・troublesome tuning; and
・inhomogeneous plasma.
Characteristics (Value)
Characteristics Chart
Mechanical characteristics:
Heat/electrical characteristics
Characteristics
Coefficient of thermal expansion
×10-6/K
Thermal shock resistance
K
Coefficient of thermal conductivity
W/m・K
Electrical resistance
Ω・cm
Dielectric strength
kV/mm
Dielectric constant
Dielectric loss
×10-4
Standard product
A995
7.3
200
30
>1014
12
10
<300
Low-dielectric loss type
A995LD
7.5
200
30
>1014
12
10
<5
Thermal shock residence type
A995S
7.1
500
30
>1014
-
10
<300
High-purity type
AJPF
7.7
200
35
>1014
12
10
1
Usage
Possible factors causing unstable plasma are high or unstable dielectric loss of ceramic members. A995LD with ceramic stably-maintained low dielectric loss can improve equipment performance in terms of:
electric power saving due to reduced power loss;
rate stabilization;
tuning work saving; and
plasma dispersion prevention.
Product Lineup Chart
Type
Characteristics
Characteristics
Usage
Standard product
Large shape allowed
Relatively inexpensive
A995
・Members for various semiconductor manufacturing devices
・Large components for various liquid crystal devices
・Large abrasion-resistant parts for machines such as a mill, grinder, pulverizer, and crusher
Low-dielectric loss type
Low-dielectric loss
A995LD
・Plasma devices for semiconductor manufacturing
Thermal shock residence type
Thermal shock residence
High toughness

A995S
・Carrier parts for heat-treating process
・Heater peripheral members
High-purity type
High-purity
Pore-free
AJPF
・Plasma devices for semiconductor manufacturing